And her first name isn't Rihanna, either.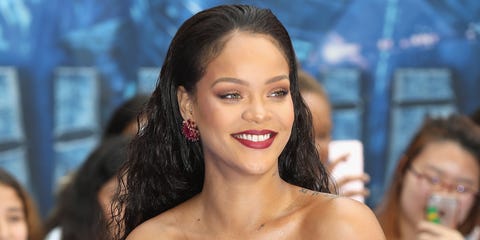 Rihanna's new Fenty Beauty collection has the entire earth shooketh with its entire rainbow of totally inclusive shades. But some fans are wondering where the name "Fenty" actually came from.
Y'all, I'm about to rock your world.
Bad Gal Riri's full name is actually Robyn Rihanna Fenty.
https://giphy.com/gifs/britney-spears-gif-Dg4bJOS0OpyzC?utm_source=iframe&utm_medium=embed&utm_campaign=Embeds&utm_term=http%3A%2F%2Fwww.seventeen.com%2Fbeauty%2Fceleb-beauty%2Fa12436075%2Fwhat-fenty-means%2F%3Fsrc%3DsocialflowFB
Twitter apparently just learned how to use Google and people are freaking out about this new information. Just look.
Just found out Fenty is Rihanna's surname and not just a made up word

— Rhianna ???? (@rhiannaoliviab) September 14, 2017
When you figure out that Fenty is @rihanna last name pic.twitter.com/RONHwjS4Cx

— Grace Jones' Spirit (@Hadiya_Spalding) September 19, 2017
I WAS SHOOK NOT KNOWING RIHANNA'S LAST NAME IS "FENTY" WOAHHHH ????

— ✨ Kurt Ashton ✨ (@SatelliteKisser) September 20, 2017
FENTY IS RIHANNA'S LAST NAME SAY WHAT ???????????????? I am the worst fan ever pic.twitter.com/Kp4D6HbdF3

— HENSLEY (@HensleyU) September 12, 2017
I just found out that Fenty is actually Rihanna's last name pic.twitter.com/Sd7lDZFpRi

— Bea Nicor (@beanicor) September 20, 2017
Fenty is actually Rihanna's last name. Mind. Blown. pic.twitter.com/tQBVf4R1zy

— ReemOmeirat (@ReemOmeirat) September 20, 2017
I, the idiot, didn't know Rihanna's last name was Fenty so I'm sitting here in class like wait…so that's why pic.twitter.com/GjWu1XNSZV

— zooey101 (@bullssoxfan23) September 19, 2017
Also, you've been pronouncing her name wrong.
Follow Womenzilla on Twitter